| | | |
| --- | --- | --- |
| Service Photo | Service Details | |
| | | |
What are you doing now:


Semi-retired from a second career and teaching college business courses online.




Other Comments:
After retiring from the Air Force in 1980, I completed a doctorate in business administration and subsequently entered the field of higher education management. My first job was as the Dean, European Programs (GSE-16) for a private university contracted to the DoD. Remaining in that aspect of the field for 4 years the job took me to virtually all parts of the globe (and I thought that I had travelled a lot when on active duty). It was truly a challenge and I enjoyed it tremendously. Afterwards I went into full time college teaching and retired from full time in 2006. At that time I switched my sights to a less demanding part time form of online teaching. Having said that, I should note that my Air Force career was clearly the most memorable and satisfying of a 59 year adult work experience. Very best of everything to each and every one of my military brothers and sisters.

My Map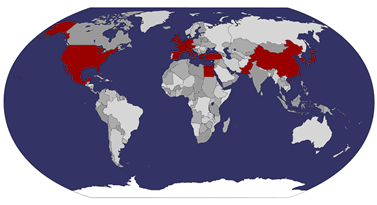 Where I spent some time.
1955-1956, Sampson Air Force Base
1956-1957, 3711th Basic Military Training Squadron
1957-1959, 604th Aircraft Control and Warning Squadron
1959-1961, 501st Tactical Control Wing
1961-1964, 499th Organizational Maintenance Squadron
1964-1967, Strategic Air Command (SAC)
1967-1969, USAF Courier Service
1970-1970, Officer Training School (OTS)
1970-1971, 7031, 443rd Organizational Maintenance Squadron
1971-1972, 7031, USAF Courier Service
1972-1976, 7034, USAF Courier Service
1976-1977, 7024, Department of Defense (DOD)/Defense Intelligence Agency (DIA)
1977-1979, 7034, Air Force Systems Command (AFSC)
1979-1980, 7024, Department of Defense (DOD)/Office of Assistant Secretary of Defense
---

---

1962-1962, Springfield College
1965-1965, Bellevue University
1966-1970, University of Nebraska, Omaha
1967-1969, University of Maryland, European Division
1972-1974, University of Arkansas, Fayetteville
1983-1983, Northern Virginia Community College
1986-1991, Nova Southeastern University




---