Last Known Activity

Lloyd Bentsen papers reference link:


LLOYD M. BENTSEN Jr. (B-24 Pilot) - U.S. Secretary of the Treasury (1993-94)

(February 11, 1921 - May 23, 2006)
B-24 Pilot for the 449th BG, 717th BS (June 1944 - November 1944) and rose to the rank of Major as a squadron commander in Europe for the 449th BG, 716th BS (November 1944 - February 1945).
Awarded the Distinguished Flying Cross and the Air Medal with three oak leaf clusters. He was promoted to colonel in the Air Force Reserve before completing his military service.
In the 1988 presidential election, the Democratic ticket of Michael Dukakis and Lloyd Bentsen was defeated by George Bush and Dan Quayle.
LLOYD M. BENTSEN Jr. Book:
The Secretary of the Treasury Through Lloyd Bentsen ('All the President's Men and Women')
Other Comments:
From wikipedia:


Bentsen was born in Mission in Hidalgo County in south Texas; his parents were Lloyd Millard Bentsen, Sr., a first-generation Danish American, and the former Edna Ruth Colbath. Bentsen was an Eagle Scout[2] and recipient of the Distinguished Eagle Scout Award from the Boy Scouts of America. He attended Sharyland High School. He graduated from the University of Texas School of Law in 1942 where he was a member of the Texas Cowboys. Upon graduation, he served in the United States Army Air Corps from 1942 to 1945. After brief service as a private in intelligence work in Brazil, he became a pilot and in early 1944 began flying World War II combat missions in B-24s from Foggia, Italy with the 449th Bomb Group. At the age of 23, he was promoted to the rank of major and given command of a squadron of 600 men, overseeing the operations of 15 bombers, their crews, and maintenance units.

In fifteen months of combat, Bentsen flew thirty-five missions against many heavily defended targets including the Ploesti oil fields in Romania, which were critical to the Nazi war production. The 15th Air Force, to which the 449th Bomb Group was assigned, is credited with destroying all of the petroleum production within its range, which equated to about half of Germany's sources of fuel on the continent. Major Bentsen's unit also flew against communications centers, aircraft factories and industrial targets in Germany, Italy, Austria, Czechoslovakia, Hungary, Romania, and Bulgaria. Bentsen participated in bombing raids in support of the Anzio campaign and flew bombers against hard targets in preparation for the landing in southern France.

Bentsen was awarded the Distinguished Flying Cross, one of the Air Force's highest commendations for achievement or heroism in flight. In addition to the Distinguished Flying Cross, Bentsen was awarded the Air Medal with three Oak Leaf Clusters. The Air Medal and each subsequent cluster award were awarded for completing specific numbers of combat missions. Before completing his military service, he was promoted to the rank of Colonel in the Air Force Reserve
====================

Captain Bentsen with bomber "Draggin Waggin," Italy, Major Bentsen in WWII pilot uniform, November 1944;[1944?]
====================
Lloyd Bentsen, Jr.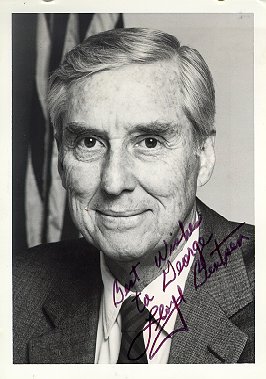 AKA Lloyd Millard Bentsen, Jr.
Born: 11-Feb-1921
Birthplace: Mission, TX
Died: 23-May-2006
Location of death: Houston, TX
Cause of death: unspecified
Remains: Buried, Forest Park Cemetery, Houston, TX
Gender: Male
Religion: Presbyterian
Race or Ethnicity: White
Sexual orientation: Straight
Occupation: Politician
Party Affiliation: Democratic
Nationality: United States
Executive summary: US Senator, Treasury Secretary
Military service: US Army Air Corps (1942-45, Major)
Lloyd Bentsen Jr. was fresh out of law school when he joined the Army in 1942. After WWII, he went into private practice as a lawyer, and became a county judge the next year. Yup, with one year of legal experience, he was a sitting judge at 25. Welcome to Texas.
Two years later, in 1948, Bentsen ran for Congress, and won. He was re-elected twice, then left Congress to run a financial holding company, and got rich. In 1970 he ran for Senate, and won, an office he held until 1993. He was a proponent of the North American Free Trade Agreement (NAFTA) and backed forming the World Trade Organization (WTO).
In 1988 he ran for re-election to the Senate while simultaneously running for Vice President on Michael Dukakis's ticket. In that Presidential campaign, 67-year-old Bentsen memorably demolished 41-year-old Dan Quayle in a televised debate, when the boyish Quayle was asked whether he was up to running the country, should anything happen to a presumed President George H.W. Bush.
| | |
| --- | --- |
| QUAYLE: | I have far more experience than many others that sought the office of vice president of this country. I have as much experience in the Congress as Jack Kennedy did when he sought the presidency. I will be prepared to deal with the people in the Bush administration, if that unfortunate event would ever occur. |
| JUDY WOODRUFF: | Senator Bentsen? |
| BENTSEN: | Senator, I served with Jack Kennedy. I knew Jack Kennedy. Jack Kennedy was a friend of mine. Senator, you're no Jack Kennedy. |
In 1993 and 1994, Bentsen was Secretary of the Treasury, which means his signature is on U.S. paper currency printed during that time. In 2000, PBS aired a 10-part miniseries called The American President, and Bentsen provided the voice for William Henry Harrison, who died of pneumonia less than a month after taking office as America's 9th President.

Father: Lloyd M. Bentsen, Sr.
Mother: Edna Ruth Colbath
Brother: Donald Bentsen Sr. (businessman, d. 7-Sep-2006 stroke/brain tumor)
Brother: Kenneth Bentsen
Sister: Betty Bentsen
Wife: Beryl Ann Longino (m. 27-Nov-1943, two sons, one daughter)
Son: Lloyd M. Bentsen III
Son: Lan Bentsen (real estate millionaire)
Daughter: Tina Bentsen Smith

High School: Sharyland High School, Mission, TX
Law School: JD, University of Texas at Austin (1942)

US Secretary of the Treasury (1993-94)
US Senator, Texas (1971-93)
US Congressman, Texas 15th (4-Dec-1948 to 3-Jan-1955)
Texas State Official County Judge, Hidalgo County, TX (1946-48)
Alfalfa Club President (1989-90)
Alfalfa Club 1974
American Legion
Benevolent & Protective Order of the Elks
Coalition for a Democratic Majority Advisory Board
Freemasonry
Friends of Hillary
Shriners
State Bar of Texas
Veterans of Foreign Wars
Sigma Nu Fraternity
Verner, Liipfert, Bernhard, McPherson and Hand (1995-)
Eagle Scout 1938
Distinguished Eagle Scout Award
Distinguished Flying Cross
Air Medal with three oak leaf clusters
Alfalfa Party candidate for US President
Presidential Medal of Freedom 11-Aug-1999
Stroke 1998:(two)
=====================
Draggin Waggin
Ship #77. 716th Squadron.
Serial No. 42-99770

Crashed 8 January 1945 short of
runway at Grottaglie out of gas
returning from a mission.

Stationed at Grottaglie Airfield, Italy 1944-45
==================