An up close and personal interview with Air Force Veteran and TWS Member:

LtCol Irl Franklin, Retired (USAF 1956-1979)



WHAT PERSUADED YOU TO JOIN THE Air Force?



I attended Kansas State University a land grant college and as such everyone had to take two years of ROTC. Having spent many a night on Boy Scout outings I knew I did not want to be in the Army so my desire was the Air Force. When enrolling as a freshman I was told all Air Force ROTC classes were full. After spending 3 hours working up my class schedule which included Army ROTC I was told they had opened up more Air Force classes so I did it all again (this time with Air Force classes), and so it was! I finished four years of schooling, received my degree and Commission in the United States Air Force Reserve. When on active duty I was offered and accepted a Commission into the Regular Air Force.



BRIEFLY, WHAT WAS YOUR CAREER PATH?



After being commissioned in May I reported to Lackland AFB in June to begin my career as a navigator. Being lucky, I found the navigator classes were full and was offered a pilot slot. Hooray! Upon graduation from pilot school I volunteered for C-130s and headed towards Sewart AFB, TN. Arriving there, I found I was put into a C-123 unit, much to my disappointment. However, I was lucky again because in about a year I was an instructor pilot and a short while later a flight examiner. If I had been the C-130 program I would have been in the right seat for 4 or 5 years. My following years, I spent flying, and working Wing or Air Division Command posts, in addition a tour at the Tactical Air Warfare Center and Headquarters USAF. I also did a tour in Germany in a Special Operations Unit



DID YOU PARTICIPATE IN COMBAT OPERATIONS AND IF SO, WHICH ONES??



Yes, I guess you could say I was in the "mix of the War in Southeast Asia". I deployed with C-123s for Operation Mule Train in 61 & 62 and again with the C-123s for Operation Saw Buck in 63. The next time I deployed was with the C-130s in 1965, where we got out of country more often. I then transferred over to the Sky Hook C-130s in Special Operations. We deployed to Southeast Asia with Sky Hook C-130s in project Stray Goose.



YOUR WERE AWARDED THE SILVER STAR. CAN YOU PLEASE DESCRIBE HOW THIS WAS EARNED?



While serving in Germany myself and a crew from my outfit were called back to the States to serve on a secret and dangerous mission. The mission turned out to be The raid on Son Tay, a prison camp 23 miles southwest of Hanoi. Our goal was to bring back about 75 of our POWs held by the North Vietnamese.

[Editors Note: LtCol Franklin has provided a full description of his remembrances of the training and execution of Operation Kingpin, the Raid on the Son Tay prison camp. Click the link opposite to read a full personal description of the raid.
A Major at the time, LtCol Franklin received the Silver Star for his actions during the Son Tay Prison raid, click the link opposite for the Award Citation]



FROM YOUR ENTIRE SERVICE CAREER WHAT PARTICULAR MEMORY STANDS OUT AS BEING THE ONE WHICH HAS HAD THE LARGEST IMPACT ON YOU? ?



I am sure the honor to be chosen among all the C-130 pilots by the USAF to lead the mission on Son Tay.



WHICH INDIVIDUAL PERSON WOULD YOU SAY HAS HAD THE MOST POSITIVE INFLUENCE ON YOUR AND YOUR CAREER AND WHY?



I would have to say my wife (currently 53 years). She stood by me through many absences, worked, cared for our two children (generally, as they say "kept the home fires burning!"), and helped with the hard choices in life!



WHAT ARE YOU DOING NOW?



After retiring from the Air Force I moved to Nevada and worked in the local school district as guidance counselor. Upon retiring from the school I was instrumental in forming a Civil Air Patrol Squadron (CAP) where I still fly. We are responsible for search and rescue missions directed by the Air Force as well as local law enforcement agencies and we support many other tasks. In my spare time I fly as an instructor pilot and teach aviation ground school at our local college. I also serve on the State of Nevada Juvenile Justice Commission.



HOW HAS SERVING IN THE ARMED FORCES INFLUENCED THE WAY YOU HAVE APPROACED YOUR LIFE AND CAREER?



The military has been my life and molded my actions in every way. This is evident by the fact that I am still serving the USAF through CAP, an Auxiliary to the USAF.



HOW HAS TOGETHERWESERVED.COM HELPED YOU TO MAINTAIN A BOND WITH THE SERVICE AND THOSE YOU SERVED WITH?



I have reconnected with a number of Airmen whom I lost contact throughout the years. In addition, setting up my AFTWS Profile Page has brought back many good memories that I had long forgotten.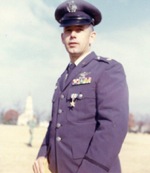 LtCol Irl Franklin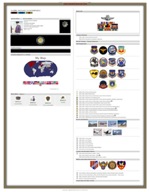 View LtCol Irl Franklin's Shadowbox on TWS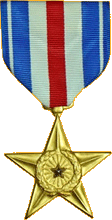 Silver Star Citation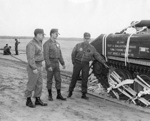 Inspecting a job well done
TWS VOICES
TWS Voices are the personal stories of men and women who served in the US Military and convey how serving their Country has made a positive impact on their lives. If you would like to participate in a future edition of Voices, or know someone who might be interested, please contact Major Wesley Prater
HERE
.
View the Complete Togetherweserved Voices Archive HERE


---
This edition of AirForce Voices was supported by: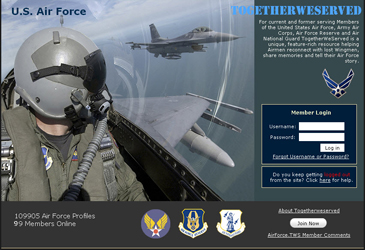 ---
AIRFORCE.TOGETHERWESERVED.COM
For current and former serving Members of the United States Air Force, Army Air Corps, Air Force Reserve and Air National Guard TogetherWeServed is a unique, feature-rich resource helping Airmen reconnect with lost Wingmen, share memories and tell their Air Force story.
---
Click
HERE
if you need a password reminder for
http://AirForce.Togetherweserved.com
.