Previously served with both the Ninth and Twelfth Air Forces before
being assigned to the Fifteenth Air Force in 11/43.
Based at Herglia, Tunisia from 9/43 to 11/43.
Moved to Brindisi, Italy from 11/43 to12/43.
Moved to Manduria, Italy 12/43 to 1/44.
Moved to Lecee Italy 1/44 until end of the war. Inactivated 11/45.
343rd BS
344th BS
345th BS
415th BS
Probably their most famous mission was the Low Level raid to Ploesti on 1 August 1943, exactly one year after the first mission was flown. On this raid, of 47 B-24s launched, only 21 returned safely. One crashed on takeoff with the loss of all crewmembers except two. Six aborted before reaching the target. Seventeen went down in enemy territory. Two went down at sea. The Group Commander, Col. John R. (Killer) Kane was awarded the Medal of Honor for his leadership.
On another raid on Ploesti on 9 July 1944, Lt. Donald Pucket sacrificed his life trying to save three of his crewmembers who could not or would not bail out of their doomed B-24. Donald Pucket was awarded the Medal of Honor posthumously for his sacrifice.
The 98th continued fighting the Nazi for the rest of the war. Flying a total of 417 missions and earning a total of 15 battle streamers as well as two Presidential Unit Citations. As cited above, two members of the 98th earned the Medal of Honor..
The 98th returned to the U.S. in April-May 1945 and was re-designated the 98th Bombardment Group (Very Heavy). the 98th was deactivated as a group on 10 November 1945. However, the 343rd, 344th, and 345th Squadrons were reassigned to B-29 groups and re-designated as Very Heavy bomb squadrons. The 343re Squadron was assigned to the 40th Bomb Group at March AFB, CA. and deactivated 27 November 1946. The 344th was assigned to the 444th Bomb Group at Davis-Monthan Field, AZ and deactivated on 1 October 1946. The 345th was assigned to the 462nd Bomb Group at McDill Field, FL and deactivated on 31 March 1946.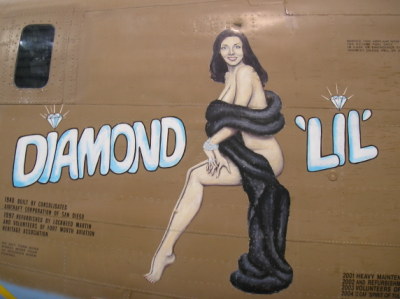 'The Vulgar Virgin''
B-24D-? "Chug-A-Lug"
Unit: 98th BG, 9th AF, USAAF
Serial: 1/V (31766)
Early 1944. Desert Sand and Azure Blue finish. Note faded portion of national insignia.
B-24D-CO "The Witch"
Unit: 343rd BS, 98th BG, USAAF
Serial: P (41-11840)
This aircraft was shot down by Bulgarian fighter pilot por.Stoyan Stoyanov during the Ploesti raid Rumania on August 1st, 1943. It crash landed at Bulgaria-Yugoslavia border. 6 POW, 4 evaded.
B-24D-5-CO "Dopey"
Unit: 343rd BS, 98th BG, 9th AF, USAAF
Serial: 41-23781
The plane was originally with the 345th BS, 98th BG. It was used as a radar equipped sea search plane. When it was transferred to the 343rd BS the Dopey nose art was applied. It was painted by Crew Chief Amos Nicholson. The starboard side of the aircraft had the nose art Arkansas Traveler. The plane was destroyed by fire on April 11, 1943. There is some question as to what happed. Some say it was destroyed by enemy agents or enemy paratroopers. Some say it was accidentally set ablaze by American soldiers who had washed it with gasoline.
B-24D-53-CO "Prince Charming"
Unit: 343rd BS, 98th BG, USAAF
Serial: Y (42-40364)
ex 'Snow White'. This B-24D painted Desert Pink over Neutral Gray. This aircraft was lost in Ploesti, Romania raid on August 1st, 1943. 8 crewmen KIA, 1 POW.
B-24D-140-CO "Snake Hips"
Unit: 98th BG, USAAF
Serial: FA (4125221 ?)
Western Desert, North Africa, 1943. Note: the serial number is speculative because it is hard to read on the photo.
B-24J-1-NT "Delectable Doris"
Unit: 343rd BS, 98th BG, 47th BW, 15th AF, USAAF
Serial: AL (42-78600)
This aircraft was shot down by AAA on 8th April 1945 over North Africa. According some other report this plane having been interned in Switzerland on 8th April 1945